Decks, Arbors, & Pergolas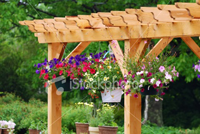 A deck can provide additional living and entertaining space and makes your backyard a great place to hang out with family and friends.  It can be stained or sealed in its natural form.  There are a variety of railings and built in seating options as well.
Arbors and Pergolas can be as intricate and ornate or simple as you like.  Adding swings, benches or planter boxes can make them functional as well as beautiful which doesn't stop there.  Both arbors and pergolas can provide shelter and cooling during the hot summer days of Texas – a must for outdoor living!  Adding special touches such as decorative gates and climbing vines can personalize a space and make it even more beautiful.
Let Integrated Environmental help you customize your outdoor environment and make it special for you!